Kartoon Faktory want to wish the Lionesses all the luck in the world for the Euro 2022 final against Germany due to take place at Wembley on Sunday.
The England women have done an incredible job so far scoring 16 goals and conceding just one, including an 8-0 thrashing of Norway.  Safe to say they're giving Gareth and the boys something to think about with the impending men's World Cup finals coming up later this year – no pressure lads!
The girls haven't had it all easy though, they took out the bookie's favourites, Sweden, in the semi-finals earlier this week and had a run for their money against Spain in the quarterfinals, where they dropped their only goal of the finals so far. Impressive stuff ladies!
Now we get to face eight-time European champions Germany in the final at Wembley, but is this going to our 1966?  Is women's football going to 'bring it home' for England after 56 years?  Let's face it, it's going to be tough.  Germany's captain, Alexandra Popp equalled Beth Meads 6 goals of the tournament in the game against France meaning they are both going to be also battling to win the golden boot this Sunday.  Oh, did we mention Germany have won the competition eight times?!  However, there is a glint of light at the end of the tunnel, according to the Telegraph journalist Tom Garry, who specialises in reporting on women's football, he believes that Germany are the under-dogs going into Sunday's final.  That's got to count for something, right??
Given England's history of penalty taking at major tournament, we thought it only fair to look at the stats.  Interestingly, or not, depending on your point of view and how much of a stat geek you are, England's women penalty shoot-out stats are just behind that of the men, being 73.65% successfully scored compared to 75.57% respectively.  So basically, what women's coach, Sarina Weigman, appears to be doing is simply (simply…chuckle!) coaching England's women to just win our matches and ensure that England fans still have fingernails, by not letting us sit through unnecessary penalty shoot outs – so far at least.
This seemingly straightforward tactic (I think even the calm and imperturbable Gareth Southgate, may get a teensy bit cross with this part of our analysis) will be even more psychologically important for Sunday's match, as any England footie fan will testify to our lack of penalty success against 'The Motherland'.  But, who in their right mind wouldn't want an England v Germany final – apart from France or Sweden perhaps, but does their opinion really matter?  No.  Why? Because it's not their blog…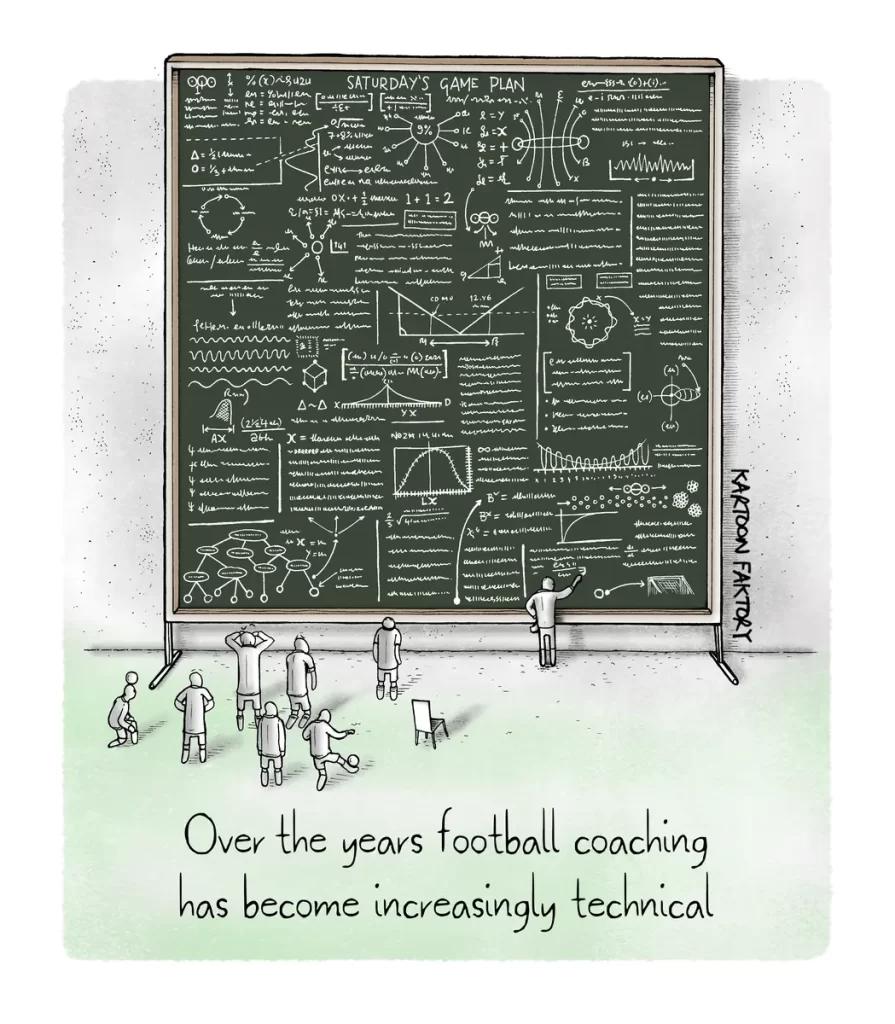 I will leave you with one last important fact, which is we now have solid proof that women's football is finally breaking through.  Is it by viewing figures, social media chat or ticket demand for games?  No, it's the influence the Dutch coach is having on fans fashion.  Yup that's right, Sarina is doing for women's trouser suits what Gareth did for the waistcoat.  It is reported that sales of nylon trouser suits are up by 140%…..now, what could shout the success of women's football more than that!
Good luck ladies, everyone at Kartoon Faktory will be cheering for you!